Today, the best resorts and villas in Kerala are totally incomplete without swimming pools. Luxury resorts in Kerala are now attaching awesome private pools inside the villas itself especially for honeymoon packages for couples and families with kids. This new concept is absorbed by travellers with much love, who are looking for romantic, luxurious and relaxing stay. The tourist destination of Kerala has a large number of resorts that features exquisite private pool villas. We provide you the best private pool villa resorts in Kerala.
Marari Beach resort by CGH Hotels, Marari
Marari Beach Resort is a sea-side village adventure at Kumarakom; it has an outdoor pool while beachside dining is available. Marari Beach Resort is one of the best private pool villas in Kerala. The immense villas have authentic thatched roofing and full length windows, partly opened bathrooms and a private pool or garden view villas. Each and every villa includes a safety deposit box, kettle and a mini-bar. For real nature lovers Marari is a rare showcase of diversification. They practice a unique ecology of Malabar coastal lines. They have enumerated with 97 species of butterflies, 350 species of indigenous types of plants 3 varieties of turtles and 10 different types of frogs and 80 verity species of birds can confront depending upon the season.
Coconut Lagoon Resort by CGH Hotels, Kumarakom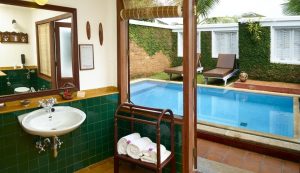 Coconut Lagoon is situated in the bang side of Vembanad Lake. The only way to reach the resort is through water way. From the private boat jetty of Coconut Lagoon about a kilometre upstream. On the way enjoy the lakes gentle swells, coconut palms over bang sides and village houses. If you are a bird lover the place will surely give immense pleasure. Guest Cottages and villas at Coconut lagoons are art of individual works and are built with residue of old residence or Tharavad. Accommodation at Coconut lagoon has its own fascination, and no rooms are alike. Each and every room have its own secrets and charms to be discovered.
Lake Canopy Resort, Alleppey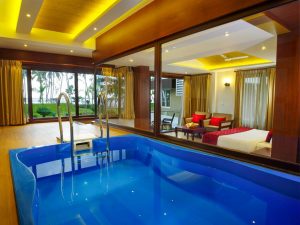 Lake Canopy is situated at the bank of Punnamada Lake a breathtaking tourism resort. The resort is a collection of 28 exotique cottages with comfortable backwater retreat and surrounded with lush backwater scenic beauty of Alappuzha. The place loved by nature lovers and those who look for charming environment. They also have private swimming pool cottages, cottages with Jacuzzi and some premium rooms rich with glamorous and elegance. During the night Hours Lake shimmers and lights from floating houseboats seems like twinkling fireflies in the glossy darkness.
Niramaya Retreat, Kumarakom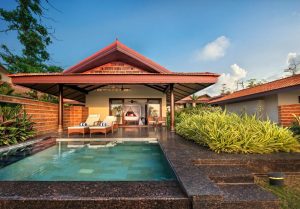 Niramaya Retreats is one of the most beautiful waterfront resorts in Kumarakom, location nestled near the banks of Vembanad Lake. The resort is set amidst 8 acres of lush tropical gardens, with 27 luxurious villas designed to maximize the glorious views of the lake. Zigzag pathways lead to tasteful living spaces that are in complete harmony with nature, coconut palms and tropical foliage. The villas in the resort has private plunge pools and a sun-drenched deck, plush interiors, open-to-sky bath gardens, walk-in wardrobes and powerful body showers to feel yourself comfortable and relaxed in Niramaya Retreat.
Spice tree Resort Munnar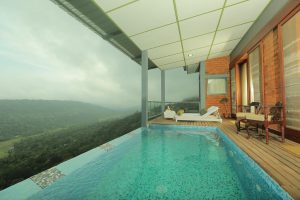 Spice Tree Resort is located in between the evergreen Kannan Devan Hills and Bison Valley Hills. Spice Tree stands unique from others and it needs to be experienced. The resort has 14 luxurious suits and 2 individual private pool villas. The place best for relaxation, rejuvenation and inspirational activities. The private pool villa at spice tree features pleasing decor and delightful ambiance providing the perfect place to relax when not indulging in numerous activities that spice tree has to offer. This stay will be unforgettable experience to feel the sprawling landscape of forest, mountains and small villages. Private pool villa is mingle of traditional and modern architecture and helps to feel an elegant class of expectation.
Panoramic Getaway Resort, Munnar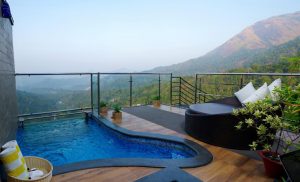 Panoramic Getaway is located 4000 feet above sea level, providing with visitors all the amenities expected from a contemporary hotel at a destination considered to be one of the most spectacular in India. This is the only hotel at Munnar with an international appeal and gives you a true five star like experience. Guests of our resort can hope to experience pristine valleys and mountains – exotic species of flora and fauna in its wild sanctuaries and forests – aroma of spice scented cool air. Also featuring cuisine that celebrates local flavours along with an array of diverse activities.
Ragamaya Resort, Munnar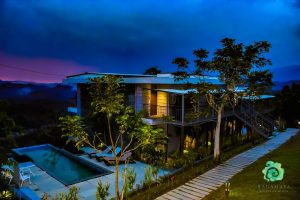 Ragamaya Resort is one of the best destinations for honeymooners. There are lots of things awaiting travellers for making your honeymoon the best one in your lifetime. A Scenic view of the extensive landscape of woodland and mountains from the honeymoon suits of Ragamaya helps to just forget the whole thing and the worries of your hectic life and have a good time. The resort is the best space where you and your better half can get your own quality time of togetherness with fully private and a romantic escape. Well, when you are picking luxury, why not to take it up the best resort to make the most of it in your life of togetherness. In Ragamaya provide with breathe taking private pool, a private deck, a master bedroom, a living room, small dining area; a large bathroom with bathtub makes your stay a unique experience. In Ragamaya Resort, you can also witness a blend of traditional and modern construction, which gives you the pleasure of simplicity, innovation, stylishness and elegant class that help you to stick on there for enjoying the beauty of Munnar and exploring the more uphill station, the diversities, cultures and wide varieties of activities in this eternal place.
Vythiri Resort, Wayanad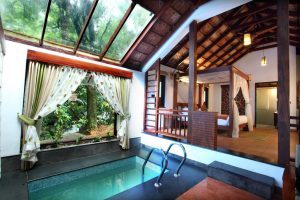 Vythiri Resort Wayanad is an elegant, exclusive, and an exquisite jungle getaway located in Wayanad. The place is largely mountainous district in northern Kerala. Situated below an enormous shade of a lush tropical rainforest its really like a journey into nature's wonderland into amphibians, birds, fish, mammals, reptiles, flowering plants and butterflies that inhabit the dense Vythiri rainforest. You will be attracted by the assurance of discovery, joy and rapture – body, mind and soul. There are also four romantic duplex villas equipped with a private swimming pool-non heated and a sun deck on the basement floor and a glass floored bed room on the floor above, with a small living area. The villas are designed in such a manner so that verandas that looks out at with splendid views of the surrounding forest.
Elephant Court Resort Thekkady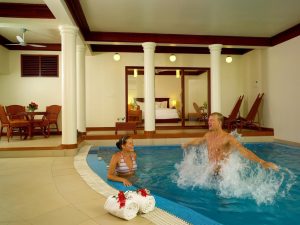 Elephant Court Resort is one of the luxury resorts lying in the shades of green in Thekkady. In this place air is scented by spices from nearby location and welcomes the guest to experience the rejuvenating power of nature. Elephant Court is fully equipped with contemporary facilities with best comforted individual villas and also provides private pool villas, apart from common pools. The villas over here epic elegant style of Indian touched rooms with modern styles. From here one can experience the green hills, thick forest, shimmering lakes and cool spiced – scented air. Apart from all these Thekkady is the perfect getaway when you are indeed of escape from your busy life schedules.
Greenwoods Resort, Thekkady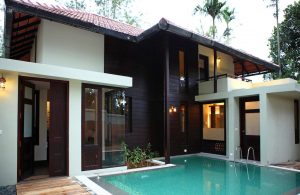 Greenwoods is a luxury nature based resort located in Thekkady. The place is perfect for a memorable honeymoon and for family looking towards leisure, individual cottages surrounded by a dense forest and grove trees and pretty flowering plants ensuring privacy. Over here we you experience the trekking within the spice plantations, naturally endowed locations and awesome hill slopes.  Cottages are fully furnished and inside space are well arranged and provided with a view of plunge pool. In the morning you can wake up with chirruping melodious songs of birds and walk through the green orchards enjoying the scenic beauty of Thekkady.
Call / WhatsApp us for more Details : +919605967986