Kerala is of course a great place for nature lovers. There are a lots of tree house destinations where you can enjoy the view from tree tops. Even though Kerala offers a wide range of accommodations Top10 Tree Houses in Kerala are a special one. The tree houses are specially designed with wooden cottages above 20-90ft above from ground level. The materials includes: bamboo poles, hay straw, and coir mats and rest of the part is joined with the tree (as pillars). Some famous Tree house in Kerala are MUNNAR, THEKKADY, WAYANAD, and ATHIRAPPILLY.
These tree houses are fully equipped with all kind of amenities like double bed, single bed, LED lightings, Wi-Fi, attached bathroom with running water/shower facilities, telephone service, washbasins, and flushable toilets. Every cottage is provided with a balcony view towards the dense forest to mesmerize the beauty of nature/ wildlife around.
Even if there are a lots of resorts offering a comfortable stay in each destinations, Tree houses is always a better option to enjoy the lush tropical rain forest surrounded with exotic tea and spice plantations. This will surely enrich your guest with memorable experience. Kerala tree houses are quite popular among tourist destinations. Treehouse in Wayanad and treehouse in Thekkady are the best place to feel the nature and wildlife view from the treetop.
Here are some best tourist destinations famous for Treehouse Resorts in Kerala.
Vanya Treehouse – THEKKADY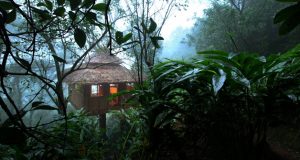 Vanya treehouse is an experience with different feel apart from other resorts. Vanya tree house    offers a forest edge walking towards a view point which is 3500ft high from sea level. Meditation is another experience provided only for the Vanya in-house guest. This helps to rejuvenate fresh mind and release tension. Some other activities that can be entertained are Bird watching, solar plane visit, Ranthal light dinner in dark forest, night trekking, Sunrise and Bison sighting and also mesmerizing camp fire during dinner time.
Dream Catcher Plantation Resort –MUNNAR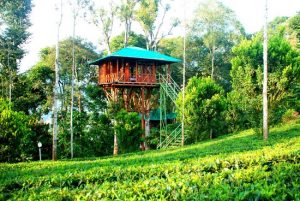 The resort is spread over 20acres in Bison valley road near Munnar. The resort is covered with different plantations like tea, orange, cardamom and filled with natural beauty. All the tree house (20-60ftfromground level.) has modern amenities like attached bathroom, 24hrs hot/cold water, 100% power back up, writing table, chair, Wi-Fi, TV, and nature view Balcony.
Vythiri Resort – WAYANAD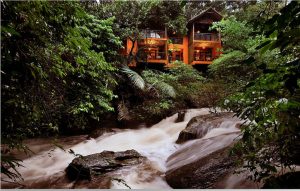 The resort is located in and around a lush green forest and an elegant jungle gateway in Wayanad. The tree houses are above 90ft from ground level and there is also 1 tree house which is a family tree treehouse with35ft from ground level. (Child friendly treehouse).Treehouse is ideal for couples and for small families. The resort also provides spa, conference hall, Ayurveda centre, multi-cuisine restaurant, coffee shop, health club, swimming pool, games room, travel assistance, TV stations, Kids Park, natural pool, and also safe deposit lockers.
Nature Zone Jungle Resort – MUNNAR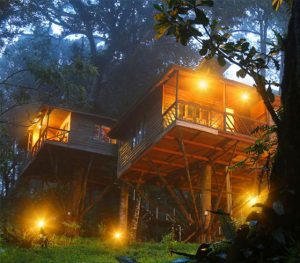 The resort is the picture perfect vacationer spot for traveller looking for a soothing atmosphere. The place is located at the top level of Munnar in the middle of evergreen mountains with awesome view and top class services to feel comfortable and to enjoy eco-friendly atmosphere. From the tree house on can enjoy the view of mountains and valley and also the tea gardens. The treehouse are built with-in the living trees and no compromise is done with the guest living space and products and services.
Carmelia Haven Tree house- THEKKADY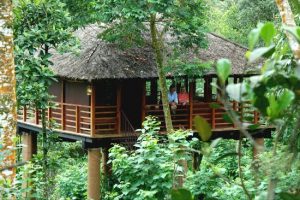 Carmelia haven is an eco-friendly resort built in the middle of a tea and cardamom plantation. On the way to resort look on to the stunning landscapes and moving towards the higher elevation we can see the reception building and again towards a handicrafts store and some couple of suits.  And at the top of the mountains tree houses are built to experience the exotic views and rejuvenations. The treehouses are built with wood –solid stilts and soar to cover the trees around them. Guest interested in adventurous activities will really like it.
Rainforest Resort – ATHIRAPPILLY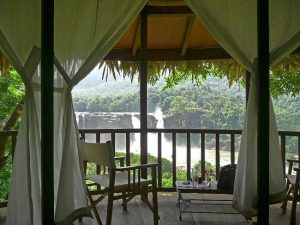 The only way by which we can reach the resort is through hills and trees with dazzling rainforest. On reaching the spot looks will automatically go upwards of tree…climbing on to the tree house this will surprise you. While you are on the treehouse the picturesque towards the thundering waterfall is an electrifying sight. This is a unique feeling only attained in Kerala.
Ela Echo Land – MUNNAR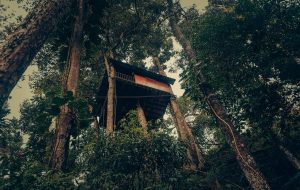 The resort is located 18 kilometres from Munnar Town. Resort truly focus on true nature lovers. Whether it's your honeymoon trip or weekend break this the best place to enjoy your maximum. Tree house is only accessed through stairway. Every tree house is having a large balcony with view towards waterfall and flowing river. The treehouse includes a western water closet and bathroom, pedestrial fan, tea coffee kettle, two bottle of water, intercom service, 24hrs power backup and security.
Kaivalyam Retreat – MUNNAR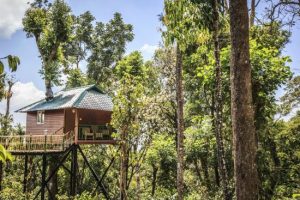 Kaivalyam is a holistic health retreat centre in the centre of nature, surrounded with tea plantations and valleys. The centre is famous for both national and international travellers. Travellers those who visit this place attains the traditional form of yoga and organic way of living. Place is enriched with tea gardens, mountain slopes, natural water streams, plantations of tea, coffee, cardamom, pepper, and other spices.
Ranger wood Nature Castle Machan Treehouse – THEKKADY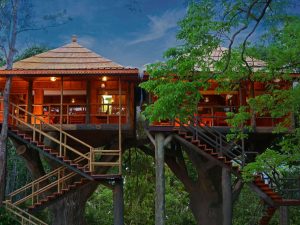 The tree house over here is situated close to Periyar Tiger reserve and is over 30ft height on two trees. Tree houses over here has two separate entrances to serve ideal privacy for the guest. It is the only private treehouse that lies to Thekkady wild forest. The rooms over here are spacious and well equipped with all kind of modern amenities. The mattress over here is very comfortable and secure and strong cupboards are provided with locker facility. In the morning, wakeup call will be done by birds through balcony side.
Tranquil Resort – WAYANAD
Serene Tree villa
Serene Tree villa is a spacious tree villa that gives you beautiful views of coffee plantation from the large verandha of tree villa. This tree villa is child friendly (3yrs and above) and all kind of modern amenities are included. Adequate light and ventilations are provided with insects screens on all openings.
Tranquil Tree House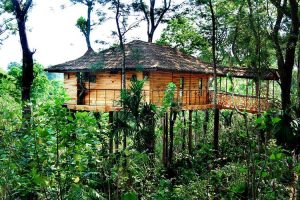 This tree house rests on a Gul Mohar Tree with mesmerizing coffee plantation. The house is famous for its luxurious interior, balcony, a big size bedroom and bathroom. This is placed at 45ft above from ground level and facing a valley towards north. Children below8 are not allowed here due to security reasons. This is one of the best resort is Wayanad.